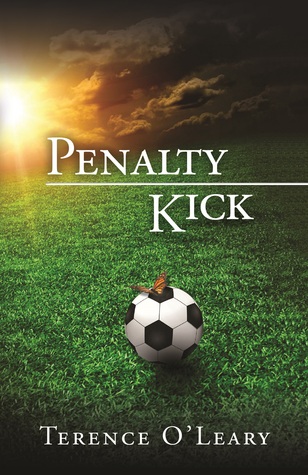 Title: Penalty Kick
Author:  Terence O'Leary
Publisher: Swan Creek Press
Pages: 216
ISBN-10: 0975321633
ISBN-13: 978-0975321638
Josh lives for soccer until the day of the accident. Brooke knows what it is like to wake up in a hospital bed with your whole life shattered.

Inspired by true events, Penalty Kick is a poignant story about a teenage girl who tries to help a fifteen-year-old boy overcome devastating loss.

 – – –
Penalty Kick is an inspirational young adult novel about healing, recovery from trauma that manages to address heavy topics eloquently. What can easily provide melodrama and angst is executed in a sophisticated way, where reality isn't dismissed —the majority of the book relies on a key theme of hopelessness, endless pain and brutality— but acceptance is encouraged, nurtured and becomes a primary aspect of this emotional novel.
Two teenagers set apart from their early experiences of trauma and forced maturity unite together. It's a rather simple plot, but its delicate execution and an acute understanding of survivor's guilt, anxieties and heart-wrenching regret causes the rather basic plot to be exceptionally addressed. Brooke and Josh are typical teenagers with atypical experiences, whom the reader immediately identifies with; the surrounding characters also manage to be three-dimensional, full of depth, with different responses to the same event. This leads to a greater exploration of trauma and the range of aftereffects.
The blossoming romance between the main leads was unexpected –I didn't realise it was a romance from the blurb alone—but endearing and supportive relationship was a large step towards their healing. I identified most with optimistic, grateful Brooke, who took pleasure by simply being alive –and through her own efforts, encouraged others to live. Her kindness moved and inspired me, in the same way I'm sure it inspired Josh.
It's difficult to describe Penalty Kick in terms of plot, but it is one of the most psychologically moving pieces I've read in a long time. Rarely do I learn something significantly important from Young Adult fiction, but I learnt about: love, healing, emotions, and a raw (sometimes brutally honest) perspective of grieving, that still manages to provide great speculation. Long after finishing the book, I still reflected upon it; and also, myself.
—RATING: 5 out of 5 stars